Maria Anastasiou
Executive Director, Office of International Education and Development (OIED)
Maria Anastasiou is the Executive Director of OIED. She works closely with the Associate Vice Chancellor to implement Appalachian's Strategic and Global Engagement Plans and manages the day-to-day operations of OIED. She works closely with colleagues from academic and administrative departments on campus to assess OIED programs and to develop and implement policies and procedures for the office to better achieve the global learning goals of the University. Maria received her BA in Economics and International Studies from the University of North Carolina (UNC) – Chapel Hill and her MA and Ph.D. in International Studies from the University of South Carolina (USC) – Columbia.
Prior to joining Appalachian State University in June 2014, Maria worked at USC – Aiken as the Director of International Programs. Maria also worked at Frederick University in Cyprus as the Director of the Lifelong Learning Program financed by the European Union. During her graduate career, among other things, she worked at the Walker Institute of International and Area Studies at USC Columbia as the Administrative Director of the Fulbright American Studies Institute from 2004-2007, a program financed by the US Department of State. Maria has taught numerous courses on Foreign Policy and International Relations and likes to teach college-level classes when time permits.
A native of Cyprus, Maria came to the US in 1994 on a Fulbright Scholarship for her college education. She is now married and has two children. She enjoys traveling, gardening, craft making, and spending time with her family.
Tandrea Carter
Director, Counseling for Faculty and Staff
Tandrea Carter is the Director of Counseling for Faculty and Staff. In her role, she oversees confidential counseling services provided to university employees as well as immediate family members. She also coordinates her office's efforts to provide broad-based support toward employee wellness including creating workshops, seminars and classes relevant to employee wellness and wellbeing and serving on various university-wide advisory committees. Tandrea Carter joined Appalachian State University in 2009, initially teaching in the Department of Psychology prior to beginning her work with Counseling for Faculty and Staff in 2010. Tandrea Carter is a licensed psychologist who earned her PhD in Clinical Psychology with a concentration in Health Psychology from the University of Miami. Dr. Carter completed her undergraduate studies at Columbia University where she majored in history. She completed her internship with the Atlanta VA Medical Center and completed a postdoctoral fellowship with Emory University where her training focused on trauma, serious mental illness, and substance abuse. Tandrea Carter has previous experience working in a variety of human services arenas including foster care and adoptions, criminal justice, and medical settings. She maintains an active research interest in public health issues, with a primary focus HIV prevention and support. In her current work, Tandrea Carter values the opportunity to support to Appalachian State University community through support of individual employees and through direct support to programs, departments, and overarching university initiatives.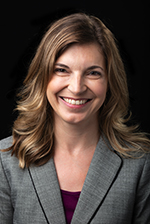 Maureen Cathey
Associate Director, Business Career Services
Maureen Cathey recently began a new role as Associate Director in Business Career Services in the Walker College of Business. She serves as a career coach and provides employer relations for graduate business programs as well as undergraduate accounting. Prior to accepting her new role, Maureen had served as an assistant director and career counselor in the Career Development Center at Appalachian State University (NC) working as a liaison to the Reich College of Education since 2014. For the last four years, Maureen has taught the Life and Career Planning course for the Sophomore Year Experience Residential Learning Community. Maureen serves as a Student Conduct Board member and Administrative Hearing panelist and has also been engaged on campus in committees such as the Student Success Team. She has been involved with the North Carolina Association of Colleges and Employers (NCACE) and the Southeastern Association of Colleges and Employers (SoACE). Prior to working at Appalachian State University, Maureen worked at the University of Tennessee in Knoxville in a variety of student affairs areas including Career Services, Student Conduct, Orientation, and Parent and Family programs. She also spent time at the University of Colorado at Colorado Springs in the position of MBA Program Director. Maureen earned her Bachelor of Arts in English and a Master of Science in College Student Personnel from the University of Tennessee, Knoxville.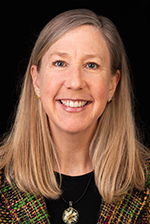 Elizabeth (Beth) M. Frye
Professor and Graduate Program Director, Department of Reading Education and Special Education
Dr. Frye is a professor of reading education and serves as the graduate program director for reading education in the Department of Reading Education and Special Education at Appalachian State University. She is interested in writing development and instruction and the critical engagement of diverse children's literature. More specifically, Dr. Frye's research interests include pedagogical practices that facilitate educators' knowledge and instruction of critical issues and diversity represented in children's literature, students' generative writing, and explorations of poetry. Her years of experience as an elementary teacher undergird her commitment to teacher education, and she is always mindful of striving readers and writers. She teaches children's literature and language arts methods courses to undergraduate and graduate students. Dr. Frye is the co-chair of the biennial Children's Literature Symposium that is jointly hosted by Belk Library and the Reich College of Education. As a member of the curriculum team for the Academy at Middle Fork, she focuses on literacy initiatives and collaborates with the Academy's faculty. Dr. Frye earned her B.S. in Elementary Education, M.A. in Reading Education, and Ed.D. in Educational Leadership from Appalachian State University. Beth is an outdoor enthusiast and enjoys running, mountain biking, and hiking with her husband and their two rescue dogs.
Ellen P. Grulke
Interim Director Case Management, Office of the Dean of Students
Ellen Grulke received her B.S. in Human Development and Family Studies from the University of Connecticut in 2007 and her M.A. in College Student Development from Appalachian in 2009. She is a currently enrolled student at Appalachian working on her doctorate in Higher Education Administration. Ellen's dissertation will focus on student perception and experiences with campus adjudication procedures, including restorative justice for sexual misconduct cases. Ellen currently serves as the Interim Director of Case Management in the Office of the Dean of Students at Appalachian. In her role, she oversees services that provide 360- degree immediate and intermediate, individualized support to students navigating a myriad of concerns. Prior to this role, Ellen served as a case manager specializing in interpersonal violence response, and served in an interim capacity as Appalachians' Title IX Coordinator from 2016-2017. Ellen has previous experience working in housing, student conduct and Title IX.
Precious Guramatunhu-Mudiwa
Professor, Leadership and Educational Studies
Precious Guramatunhu-Mudiwa is a Professor in the Department of Leadership and Educational Studies at Appalachian State University. She joined Appalachian State University in 2007 after earning her doctorate in Educational Leadership from Idaho State University. Since 2017, Precious has served as the Program Director of the Master in School Administration (MSA) and the Graduate Certificate in School Administration. She is also an Educational Policy Fellow from the Education Policy Fellowship Program (EPFP) class of 2009, and a member of the North Carolina Professors of Educational Leadership (NCPEL). Precious is passionate about the development of women as leaders, addressing gender gaps in leadership positions, and equity and access in education. Her passion led her to secure funding and invite Linda and Cheryl Brown to Appalachian State University; the children of Rev. Oliver Brown, whose name was used as the plaintiff of the landmark case Brown vs. Board of Education (1954), to speak about their experiences of events and perspectives of the case. Her commitment to women in leadership, particularly in higher education, gave Precious the impetus to create the Women in Educational Leadership Symposium (WIELS) in 2016, and serves as Executive Director. She has also served on numerous committees in the College of Education. Precious earned her M.Ed. from Idaho State University, and B.Ed. from the University of Zimbabwe.
Christine P. Leist
Associate Professor of Music Therapy, Hayes School of Music
Christine Leist, an associate professor of music therapy in the Hayes School of Music (HSOM), has been a faculty member of Appalachian State University since 2000 serving in non-tenure track and tenure track positions. Prior to joining the faculty of Appalachian, Christine worked as a music therapist at a long-term care facility and as an instructor and program director of the music therapy program at Charleston Southern University. As a board-certified music therapist, her areas of teaching, clinical practice and research are medical music therapy including pain management, neurological conditions, inclusion practices, cardiac care, and wellness. In addition to teaching undergraduate and graduate students, she enjoys mentoring their publications and presentations. She has presented on topics such as medical music therapy, guitar skills for music therapists, and music therapy higher education at state, regional, and national conferences. At Appalachian, Christine was a member of the University Research Council and the HSOM NASM Steering Committee. As a member of the American Music Therapy Association (AMTA), she has been involved in leadership roles at many levels. Current leadership roles in the AMTA include serving as past president of the Southeastern Region of the American Music Therapy Association and as an elected delegate to the AMTA Assembly of Delegates. She holds a Ph.D. in Music Education with a cognate in music therapy from Michigan State University, a Master of Music in Music Therapy from the University of Miami (FL), and a Bachelor of Music in Music Therapy from the Florida State University.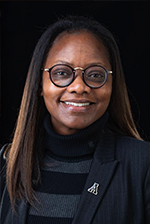 Terri L. Lockwood
Director of Marketing Communications and Inclusion, University College
Terri L. Lockwood is the director of marketing communications and inclusion in University College at Appalachian State University (NC). She works to promote student engagement and success through University College's 18 divisions. Lockwood joined Appalachian State in 2001 through the Office of Equity, Diversity, and Compliance (EDC). She is a two-time Appalachian State University alumna, having earned a bachelor's degree in Communication (Public Relations) in 2006 and a master's degree in Higher Education (Administration) with a concentration in Leadership and Educational Studies in 2009. Lockwood was promoted to director of programs in Academic Affairs and worked closely with the vice provost for Faculty Affairs on the university's Faculty Fellows Program, designed to increase campus diversity. Her duties also included assisting with the implementation of an institutional accreditation requirement known as the Quality Enhancement Plan (QEP). The Office of the QEP was established, Lockwood's position was transferred, and she worked closely with the office's director to bolster a campus-wide, global-learning perspective. She managed programs promoting international travel opportunities, learning communities, and globally-focused campus events. She is a member of Appalachian's Chief Diversity Officer's Advisory Board, local co-chair of the State Employees Combined Campaign, and board member of the High Country United Way. As the director of marketing communications and inclusion, Lockwood is excited to acquaint faculty, staff, students, and community members with divisions and programs in University College designed to strengthen teaching, learning, and inclusive excellence.
Katherine J. Mawhinney
Professor of Mathematics and Assistant Chair, Department of Mathematical Sciences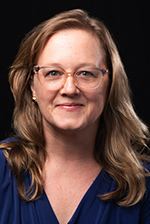 Dr. Katherine Mawhinney, a native of Raleigh, NC, joined the faculty of Appalachian in 2003, and is currently a Professor of Mathematics in the Department of Mathematical Sciences. Completing both her MS and PhD in mathematics at NC State University, Katie's research interests include topology and its connections to set theory, K-16 mathematics education, and K-12 teacher professional development. She has served as director or co-director on more than four different math science partnership grants supporting K-12 educators in the state, and is a founding member of the North Carolina Collaborative for Mathematics Learning. Katie has had the privilege of sharing her research on the teaching and learning of mathematics at several statewide and national conferences and through learning communities at both the K-12 and undergraduate levels. Katie is currently serving on the board of the North Carolina Teachers of Mathematics, and is the Assistant Chair of the Department of Mathematical Sciences.
Adam McCourry
Senior Associate Director, Office of Student Financial Aid
Adam McCourry is the Senior Associate Director in the Office of Student Financial Aid at Appalachian State University. Adam served as the Interim Director of Financial Aid at Appalachian from June 2018 to February 2019. Before becoming the Senior Associate Director, Adam served six years as the Assistant Director of Compliance within the Financial Aid office at Appalachian. During his time as Assistant Director, he worked closely with Appalachian's ACCESS program. He also managed the verification department and the Return to Title IV processes within the office. As Senior Associate Director Adam is responsible for overseeing the daily operations of the Financial Aid office. He is responsible for ensuring all eligible students are awarded financial aid in a timely, efficient, and compliant manner. He is responsible for collecting and analyzing data to track student financial aid awards and program expenditures. During his tenure as Interim Director of Financial Aid, Adam worked closely with Student Accounts at Appalachian to overhaul the billing and schedule cancellation processes. He earned his M.A. in Higher Education (2010) and B.S. in Business Administration (2005) both from Appalachian State University.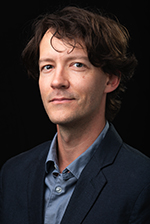 D. Jason Miller
Associate Professor and Building Science Program Director, Department of Sustainable Technology and the Built Environment
D. Jason Miller is an associate professor and program director of Building Science in the Department of Sustainable Technology and the Built Environment (STBE) at Appalachian State University (NC).
Holding a dual B.A. in Art History and History from Washington and Lee University (VA), and a M. Arch. from the North Carolina State College of Design, Jason is a registered architect who seeks sustainable architectural solutions and collaborative opportunities through his creatively named professional practice, David Jason Miller Architect PLLC. He brings wide-ranging project experience in architecture, construction, and lighting design from firms in Raleigh (NC), New York City, and Mexico DF to his professional and academic work in western North Carolina.
Jason joined the Appalachian faculty as a lecturer in 2009. He worked as a primary faculty advisor for Appalachian's successful competition entries to the 2011 U.S. Department of Energy Solar Decathlon and Solar Decathlon Europe 2014. Since 2014, Jason has been deeply involved in the creation and direction of the progressive Integrative Design Experience Library (IDEXlab), a progressive curriculum program where interdisciplinary student teams plan, design, and build real projects for real clients in a professional office environment. His research interests include design pedagogy, sustainable design-build practices, and the role of architecture as an agent of social activism.
Jason currently serves the College of Fine and Applied Arts as Dean's Fellow for Inclusive Excellence. In this role, Jason works with faculty, staff, and students on issues related to the discussion, expansion, and celebration of diversity across the college.
Kevin Patterson
Director, Business Systems
Kevin Patterson earned his B.S. in Computer Science from Appalachian State University (NC) in 2005. Kevin began his career in the Store Systems group of Lowes Companies, Inc., focusing on point of sale and secure payment authorizations. In 2009, Kevin returned to Appalachian as the system administrator for the University Bookstore, then moved to Business Systems in 2011. Kevin was named Director of Business Systems in 2015. In this role Kevin works closely with the Controller's Office, Materials Management, Budget Office, Payroll, HR, and ITS to ensure the supporting information technology (IT) systems work appropriately and efficiently. Throughout his career at Appalachian, Kevin has focused on creating IT based solutions to improve business process efficiency. Kevin enjoys serving on numerous and varied advisory committees to help guide policies and programs. Kevin is also proud to have participated in Western Youth Network's mentor program for 6 years.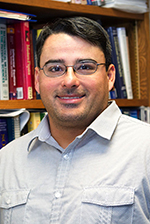 René A. Salinas
Professor and Faculty Athletics Representative, Department of Mathematical Sciences
René A. Salinas is a mathematical ecologist whose research focuses on modelling the impacts of management strategies on wildlife populations. He earned a BS in Biology and a BS in Physics at Texas A&M University – Kingsville. René went on to earn his Ph.D. in Mathematics at The University of Tennessee – Knoxville. After one-year as a Post-Doctoral Research Associate in the Department of Ecology and Evolutionary Biology at Tennessee, he accepted a tenure – track position at Appalachian State University in 2004. His research has involved modelling both the black bear and feral hog populations in Great Smoky Mountains National Park in collaboration with the National Institute for Mathematical and Biological Synthesis (NIMBioS). More recently, he has developed and coordinates the Sports Analytics Certificate for Appalachian's Department of Mathematical Sciences and leads a team of undergraduate research students analyzing data from various sports programs at the university. René's service has included active roles in AP&P, Dean's Advisory Council, Faculty Senate, and the Environmental Science Program Advisory Board. He is also the department's Inclusive Excellence Liaison. In 2018, René was appointed as the University's Faculty Athletics Representative (FAR). In this capacity, he serves as the chair of the Athletics Council and advises the Chancellor on matters related to Athletic compliance, academic integrity, and student-athlete well-being. As FAR, he also represents the university at the Sun Belt Conference meetings and the NCAA Convention.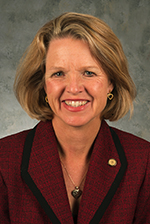 Jennifer Ward
Director of Development, Beaver College of Health Sciences
Jennifer S. Ward, CFRE is the Director of Development for the Beaver College of Health Sciences at Appalachian State University. Ward joined her husband, Dr. Dane Ward, dean of University Libraries at Appalachian, in December 2017 after nearly 14 years of service at Illinois State University and 26 years in higher education. Ward earned a BA in Economics and French from Colby College in Maine, a Certificate in Fundraising Management from Indiana University in 2004, and Certified Fundraising Executive designation in 2015. She has co-authored numerous articles in the medical field, and served in the Peace Corps as a Health Education Volunteer in the mid-80s. During her first full year at Appalachian, Ward has raised over $2.3M in private support for building, programs and scholarships for the Beaver College of Health Sciences, and worked with university team members to raise an additional $1M in University-wide support. She has worked collaboratively with college administration, University Events and other campus units to celebrate the grand opening of Leon Levine Hall of Health Sciences. At Illinois State, Ward was responsible for the establishment of more than 40 new scholarships and awards, and 20 estate commitments, which will have transformational impact in the lives of countless students. Her work with corporations and foundations include the Kresge Foundation, Robert Wood Johnson's Partners for Investing in Nursing's Future, and State Farm's America's Promise project, which has won a national award for impact and innovation. Ward is an member of the Association of Fundraising Professionals and CASE.